Stereotypes Crushed in Jerusalem
What it really means to be a hero and the need to stamp out labels in Judaism were address at a great gathering at the Great Synagogue.
By COLlive reporter

Photos by Mendy Hechtman

More than 600 people turned out for a unique gathering at the Great Synagogue in Jerusalem which marked the 19th of Kislev, celebrated around the world as the Rosh Hashana of Chassidism. 

Organized by Rabbi Eli and Chani Canterman, Shluchim to Talbiya Mamilla areas in the holy city, this is the second such annual event they hosted to unite Jews from all walks of life. 

The evening was described by many attendees as highly inspiring, and one eighty year old woman said it was "the best thing" she ever attended to in all her years at the Great Synagogue.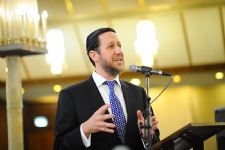 Speaker of the Knesset Yuli Edelstein opened the evening recounting his own experience as a refusenik in Siberia, punished for wanting to leave the Soviet Union. 

"I can relate somewhat to what the Alter Rebbe went through. I can relate to what Yud Tes Kislev is really all about!" he said, alluding to the day in 1798 that the founder of Chabad Chassidism, Rabbi Schneur Zalman of Liadi, was freed from Czarist prison. 

He went on to say that most people define a hero in the prison as the tough guy who can fight and be stronger than anyone else there. "Usually one has a perception of those who survive/break out of prison being strong, muscular heroes.That's not a hero," he said.

"Maybe in the movies. A real hero is someone who can come out from all that misery and go on to be even stronger than before, in their faith and in their convictions. The Alter Rebbe was far from that 'tziyur'- he was shorter, fragile. Yet his mission was so crystal clear and his faith so strong,that this aura about him opened locked doors and eventually set him free. The Alter Rebbe was a real hero."


He added, "today more than ever, Jews in Israel and the Diaspora need to be strong and united ,clear about their mission to head toward the final redemption."

The keynote for the evening was Rabbi Yitzchak Schochet, one of the most prominent rabbis in England and an international speaker, who spoke on the theme of "Can the Twelve Tribes Become One People."

Using humor, extrapolating themes from Chassidus and stories he emphasized the uniqueness of goi echad ba'aretz. Referring to the war in Israel in the summer he stressed how it brought home the reality of our compelling unity. "Each time a rocket fell, we all felt your anxiety. Each time a soldier was killed we all shed a tear. But," he questioned, "why does it take for tragedy to strike before we feel the need to bond together?" 

He also stressed how "the tendency to turn human judgments into divine commands, as some people do, makes religion one of the most dangerous forces in the world. There are religious Jews who see someone secular or acting secularly and immediately write them off as "not good enough," "not deserving to carry the label Jew – not one of mine," or conversely there are those less religiously inclined who immediately form preconceived ideas and conclusions of others who might look or behave different to themselves. I've seen it on both sides. I've seen the Charedi shun the Chiloni – and I've seen those perhaps less "frum," sometimes look and mock what they perceive as the "frume." And that's dangerous stuff. The mere fact that we have these labels, Charedi, Chiloni, Frum, non-Frum in and of itself demonstrates how dangerous judgmental religion can be."

So where does that leave me vis a vis recognising others whose views that may not be in conformity with myself? To rapturous applause he said, "It should be stressed loud and clear: There really is no such thing as Orthodox Jews or reform Jews or conservative Jews. All are simply Jews, unqualified in any sense. A Jew is a Jew is a Jew sine qua non. Either you are Jewish or you are not. You can be more or less observant but ultimately all born of Jewish mother or who are converted halachically, are and remain Jews.

But respecting one another does not mean to respect and legitimize ideas or philosophies which are unacceptable to our own. It means to respect and recognize the humanity and identity of our fellow-beings. We must never confuse ideas with persons. A person remains my fellow-being, a creature of G‑d like myself, even if his/her philosophy is not acceptable to me. And I don;t get why people find it so difficult to make that distinction, he lamented. When my time comes – after 120 – I would like to think that my epitaph will be that I coined the phrase – 2 Jews, 3 opinions, 1 heart. If more of us can subscribe to that motto the Jewish world would look altogether different.

Rabbi Schochet wound up his remarks by appealing to everyone "May Moshiach come speedily and may we live as though he already has by putting aside our differences and breaking down the barriers that impede our ability to love a little more thus living as one people in one land forever more."

Rabbi Chaim Farro chaired the evening, and Rabbi Eli Canterman closed the proceedings.